I'm trying to a a mixer to my throttle so that I will have a 100% linear curve when the switch is off, but a linear curve that goes from -100 to 0 when the switch is on. I want to do this because my quad is using 20A ESCs for each motor, but my LiIon batteries can't handle that amount of current draw. I want to have full use of my throttle stick with a 50% max on the throttle signal.
I tried assigning a curve that is exactly how I want the active mix to behave.
However, when the mix switch (gear) is not active the output of the throttle channel (ch3) is always zero. I've tried using "add", "multiply" and "replace" in the mix settings, but nothing seems to work. The wiki said that if the mix switch (gear) is off the mix shouldn't apply to the channel. So why is the output locked to zero?
Here's my current mix after removing the curve.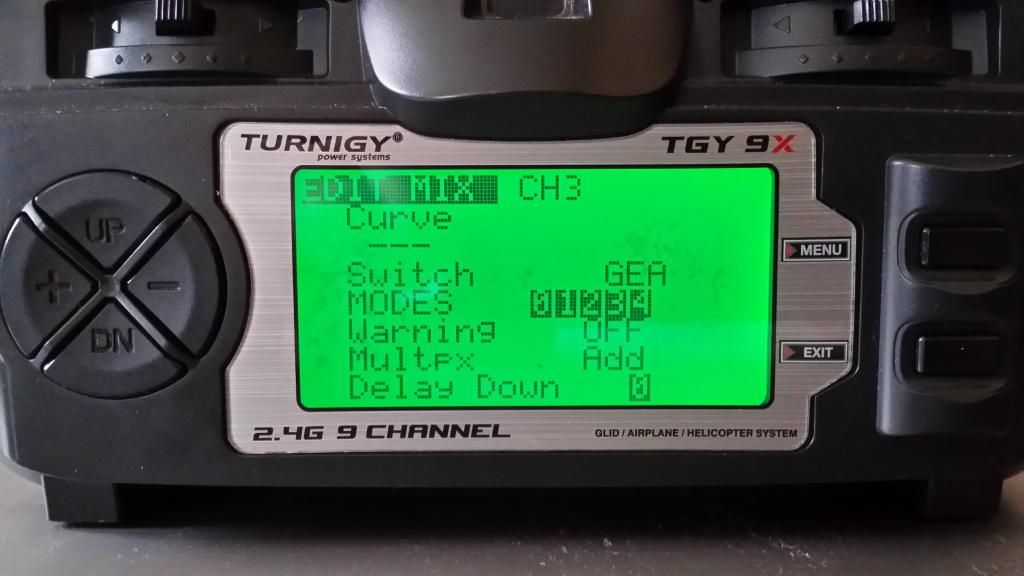 I want the mix curve to apply only when the gear switch (GEA) is active. That way I can calibrate my ESCs to recognize 1050us to 1890us as the full range of signal input (1890us being the value of full throttle, 20A) then I can flip the gear switch and activate the mix, giving me 10A for WOT on each ESC and protecting my LiIon batteries from over discharge damage.
Any help is greatly appreciated.