We have seen many different versions of the mod for FrSky telemetry (
here
), but all involve using an RS232 level converter. Some proposed schematics are simpler than others, but of course the simplest is not to use one at all. This obviously involves getting into the module, and tapping the lines between the processor and the level converter on the board.
Two of us have just been doing the mod, one with the DIY module, and me with the JR-style one. My version is based on Mike Blandford's reuse of the 2 unused module pins, but routing the module's TTL level signals to them instead of the RS232 level backside pins.
Here we go for the DJT (click on the images to have them in larger version, apparently the forum shrinks them down for display):
- Cut the trace next to the via below R25 (perform 2 cuts 1mm apart, and lift/remove the bit of copper inbetween)
- Scrape the soldermask off the via and about 2mm of the trace, whis is where the blue (RX) wire will be soldered
- Scrape 2mm of the track above it, a bit further away (no cut!) to solder the black (TX) wire
- Solder a 1k resistor over the cut you did on the RX track. This one will allow updating the module's firmware.
- Solder the blue RX wire to the end of that resistor
- Solder the black wire to the TX trace
- Solder the other end of the wires to the module connector. I added a 47 Ohm resistor in line with the RX line, this wouldn't really be needed but is thought as a protection.
In the radio:
- On the backplane, cut the traces that goes to ground on the 2nd pin. One on the "inside", and 2 on the module side!!
- Connect the 47 Ohm resistor to that pin
- Connect the 2 serial wires to that resistor, and to pin 5. I used a servo plug in order to be able to easily separate both case halves in case I need to do more work.
Finally in the radio, solder the serial wires to the TX-RX pads: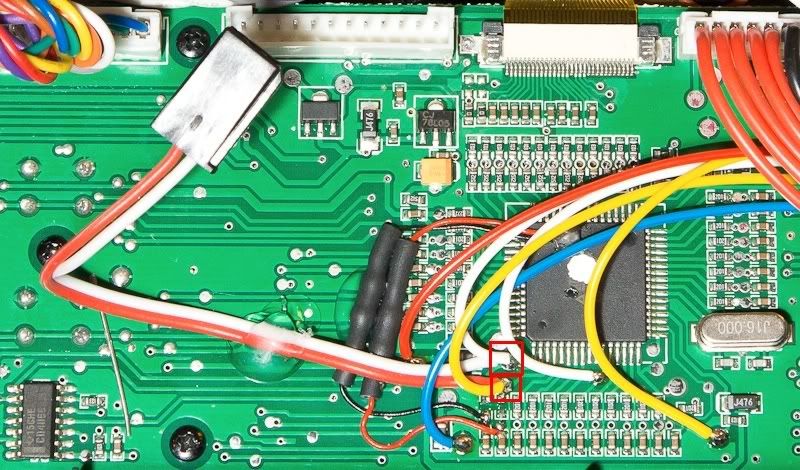 So this allows configuring alarms, receiving and displaying telemetry, reflashing the radio without removing the module, AND reflashing the module without removing it from the radio.
Please note that the radio sends alarm configuration data to the module when powered up, when model is changed, and if alarm settings are changed in the telemetry screens. So in order to avoid conflicts when you want to upgrade the DJT's firmware, just don't start editing telemetry settings or changing models during flashing, and wait a couple of seconds after powering the radio up before pressing "Download" in the Frsky flash utility!
The locations for a DHT can be found here:
http://www.rc-cam.com/forum/index.php?/ ... r9x-hacks/